Three women and a bottle of pinot grigio–the perfect set up for a conversation carried by the sounds of an Indian sitar.
I had the pleasure of dining at Palace of Asia's newly opened Maple Shade location on a brisk Thursday night. It just so happens, they were featuring a South Indian inspired menu in addition to the regular menu.  They also had traditional North Indian music played by renowned sitar and tabla players, Thomas Wave and Lenny Seidman, who are there every Thursday.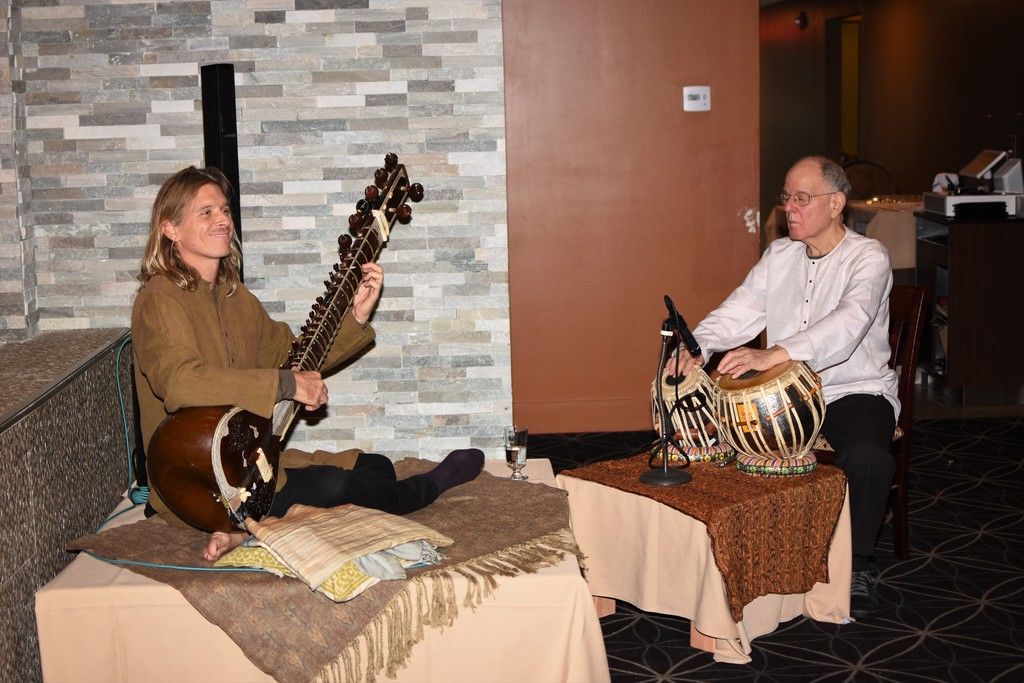 The dining experience for all guests is beyond tranquil.  There's a fascinating fountain, the size of an in-ground pool and made of stone and marble, right at the entrance.  The structure is the first thing you see when entering, and has fountain heads spewing water in front of purple and red lights.  The orange fish (sorry, not well versed in fish species lol) swam peacefully, until I disturbed them with my camera flash.  Sorry fishies.
Pamela Miller, the head of marketing for the restaurant, set up a tasting for me and my eating partner (my sister).  She sat with us the entire time and from start to finish, Pamela, David (our server), Dev (the chef and owner), and everyone else we came in contact with was extensively knowledgeable and attentive.  Before I could question anything, they were ready and equipped with full synopses.  I then realized this would be more than dining, but more of an Indian food seminar.
Our first course was a peppered papadam, accompanied by tamarind and mint chutneys. The crisp flatbread was riddled with peppercorns and lentils that provided an "in your face" kick with every bite.  I enjoyed the mint chutney with it.  Similar to the papadam, it too had some spice, but the fresh herbiness of the mint gently cooled things down.

The next appetizer recommended by Pamela and David, was the sambar wada soup.  It was a spicy lentil based vegetable soup with a fried dumpling made of lentil flour nestled right in the middle.  The soup had a thick body, almost like the Indian version of vegetarian chili.  There were loads of onions, peppers, tomatoes and lentils.  The dumpling was so dense and filling, my sister and I purposely took small slurps and bites to avoid premature fullness.  This was the kind of soup you'd kick your feet up and chow down on a snowy Saturday afternoon.
The next (and my most favorite) recommendation was the chicken 65, an appetizer I'd heard a lot about.  Rumor has it, it takes 65 different spices to make this flavorful dish and I was ready to experience each and every one of them.
My taste buds were stunned as I chomped down on a big juicy chunk of chicken. It was breaded and fried, but not fried to a crisp. I believe this "softness" added to the overall moisture.  There were so many different tastes and flavors happening at once, I'm finding difficulty doing its description justice.  For starters, the breading tasted more to me like a paste or marinade, which I was quite fond of.  It was sweet, tangy, moderately spiced and a bit crunchy from the fried red onions on top.  Bangin' would be my ideal descriptive word, but I'll use outstanding for professional purposes =)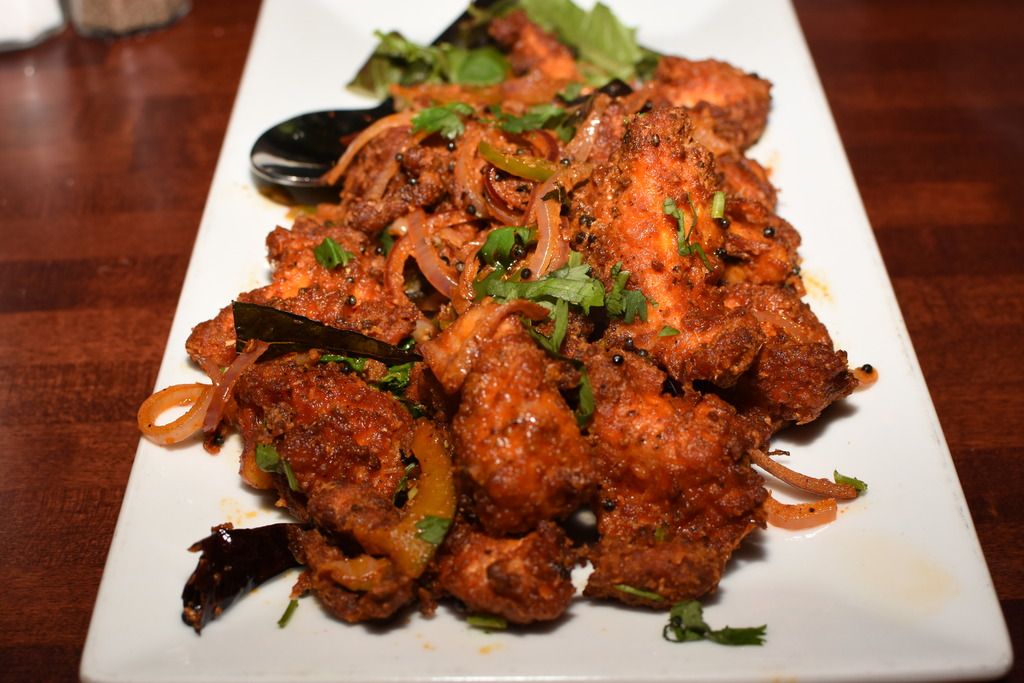 As I was coming down from a temporary food high, Pamela was shocked to learn I had never tried biryani. I was always so focused on the Indian go to's like makhanis, currys, and vindaloos, that I never thought to venture off.  Pamela ordered the chicken dum biryani for us and we watched a steam trail travel from the kitchen to our table, captivating us with its smell and beauty.  The colors were so fabulous, we halted our conversation about President Trump, and turned it to the massive mound of rice before us.
I scooped a feasible portion and was happy to notice large chunks of chicken instead of teeny bites.  This dish was probably the most aromatic meal I'd ever had. EVER.   From the cardamon, to coriander and turmeric, my buds were overtaken by herbs and curiosity.  I was soooooo surprised how much of a punch each grain of rice packed.  The chicken was super tender, which I appreciated, as I'm someone who doesn't particularly care for white meat.  It was nowhere near dry and if it came on a bone, the meat would have fallen to the side with ease.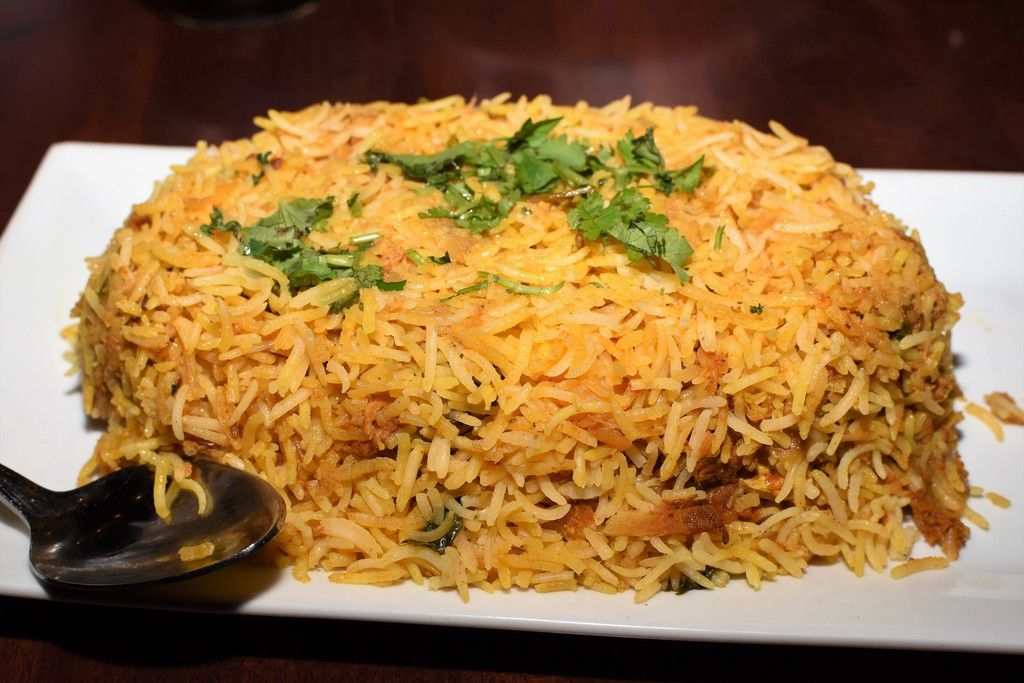 I somehow subdued my fullness to make way for main course number two–fish curry.  I found it unique that Palace prepares their fish curry with what's available that day.  Therefore, customers will always feast on something fresh.   The deep red sauce was gorgeous, but not prettier than the large chunks of fish swimming about. The meat was exceptionally flaky, which led me to believe it was flounder.  The curry was warm with spice and had a nice tomatoey creamy sweetness that paired fantastically with the mild and moist fish.  I poured lots of "gravy" over the floral tasting basmati rice.  Match. Made. In. Indian. Heaven.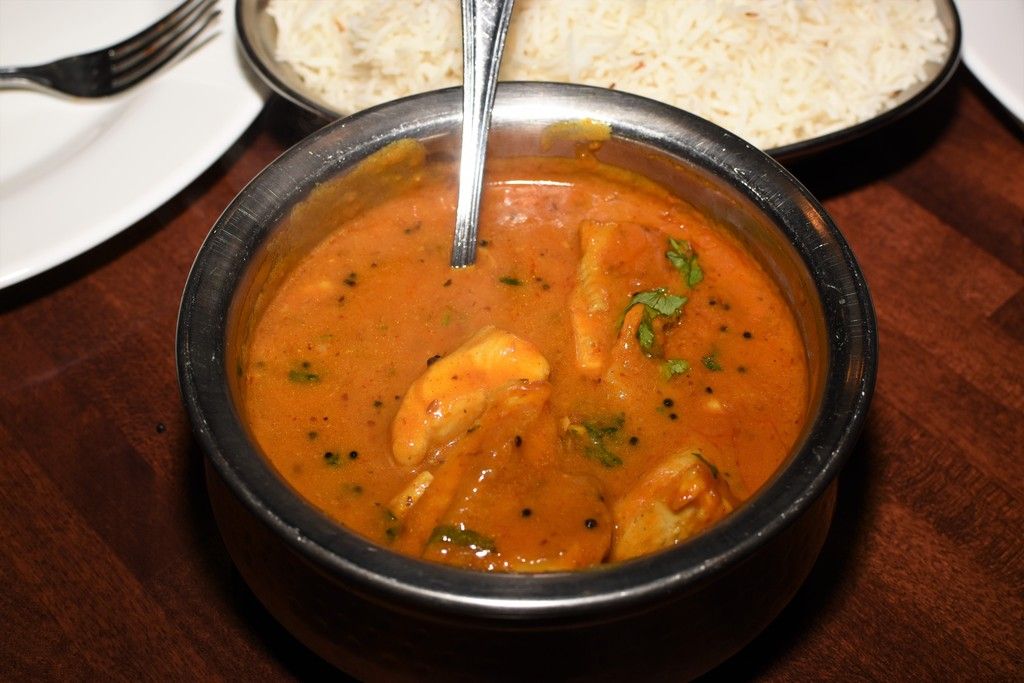 With much focus and determination, we got through it! The managers and servers at Palace made us feel regal, as they do all of their guests.
But just when we thought we were in the clear, Pamela asked, "Are you doing dessert?"  I peered over at my sister, who had already been peering at me, and we concurred, "We're full."
"Oh come on," Pamela said. "You should try the gulab jamun," she said to my sister. "And there's a dessert that's not on the menu that I think you'd love," she said to me. And with that, an order for gulab jamun (warm milk and cheese balls dipped in syrup) and gajar halwa (carrot based dessert pudding made with milk and sugar) was placed.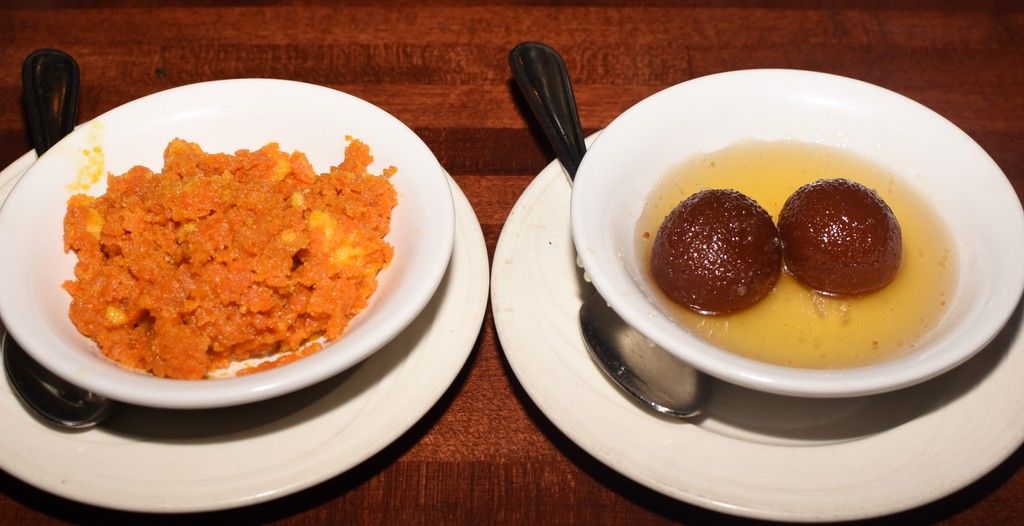 The little milk ball practically melted in my mouth.  Lord have mercy.  Having this dessert warm just takes it to a whole new level.  It was sweet and sticky and left me saying "hmmmm."  Think a krispy kreme donut balled up and floating in a pool of simple syrup.  If I only I could have paired this with a large scoop of vanilla bean ice cream, man oh man!  I thoroughly enjoyed the gajar halwa as well.  It was more flavorful than sweet and had just the right amount of cream. Whatever the white balls in the dessert were (I thought them to be macadamia nuts), I could eat a bowl of those in its entirety.
Seriously this time, me and my sister were done. Not another taste could be had.
Palace of Asia is the type of restaurant that will make you reconsider what dining should feel and be like.  The food–phenomenal.  The staff–phenomenal.  The experience–phenomenal.  They may not know it, but I consider them my immediate food family. I'm Indian now, people!
I will be back for the dinner buffet they feature every Wednesday.  I'll be first in line–me and my sister of course.