Fun fact: I lived in Baltimore for five years and became addicted to crab cakes and fresh seafood.
Fast forward a few years, I'm back in Jersey, struggling to find a staple seafood spot.
While skimming through menus on Express Grub, I saw one place boasting about their "famous" crab cakes.  Well, Bobby Chez, I thought, I'll be the judge of that.
I was ecstatic at the convenient fact that I could order everything to go and just bake at home. That way, the food would be screaming hot (how I like it) before indulging.
I ordered a small container of the saratoga summer kale salad ($4.50), the stuffed flounder, which came with roasted vegetables ($13), two crab cakes ($15.98 collectively), and a half pound of garlic mashed potatoes ($2.50).
The cashier packed everything neatly and when I asked him for a small container of cocktail sauce to go along with my food, he told me they only sell cocktail sauce by the bottle.  There I sat, super confused.  What kind of seafood joint doesn't provide customers with at least a small sampling of cocktail sauce?
I decided not to purchase because if  I did, it would be hanging out in my fridge for about five years.
When I got home I unpacked everything, but something was missing….the mashed potatoes.  So now, without cocktail sauce AND one of my sides, I thought, "these crab cakes better be the best darn things I've ever eaten."
I started with the kale salad.  It reminded me a lot of cole slaw and I absolutely positively HATE coleslaw.  However, I enjoyed this salad very much.  It was fresh and crisp and the light honey mustard dressing tossed in was delicious.  I wish I could've had some dressing on the side to add even more onto the salad, but we already know how they are with sauces so…I digress.
Next up were the roasted vegetables.  They were beautiful in color and looked very springy.  I loveddddd them. The squash, zucchini, broccoli and peppers were fresh and juicy and had a hint of salt, allowing the natural vegetable flavors to shine.  Honestly, the veggies were my favorite part of the entire meal.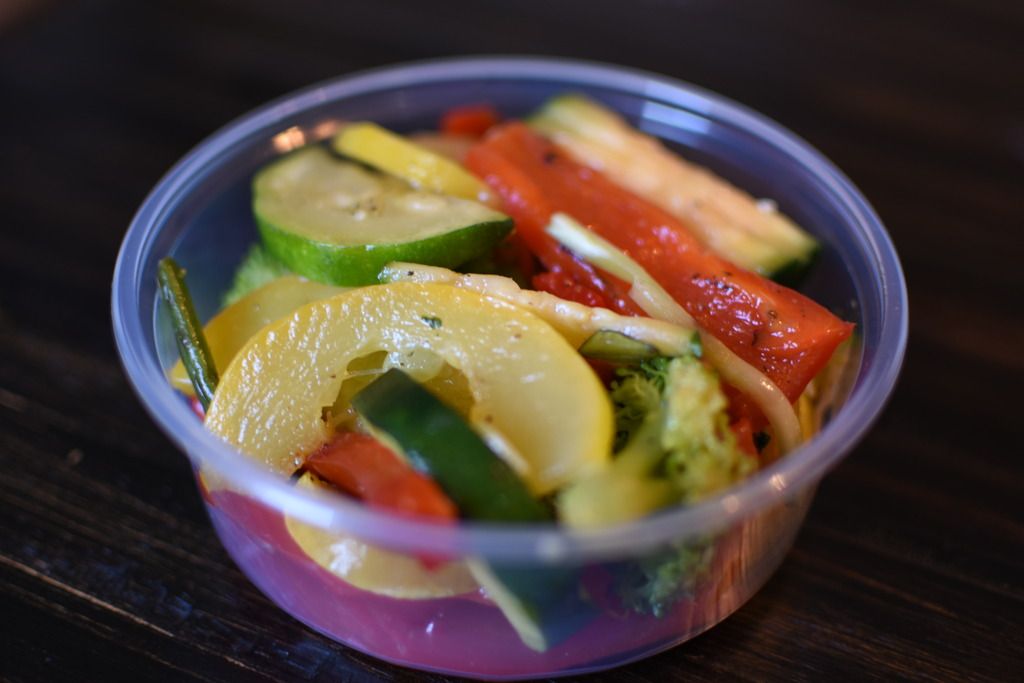 The flounder, stuffed with lump crab meat, came raw since I chose to bake at home.  The instruction advised that I add one ounce of liquid to the tin, cover with foil and bake at 450 degrees for 18 minutes.  I did just that and the fish was cooked perfectly.  It looked moist and flaky.  The taste, however, was not so appealing.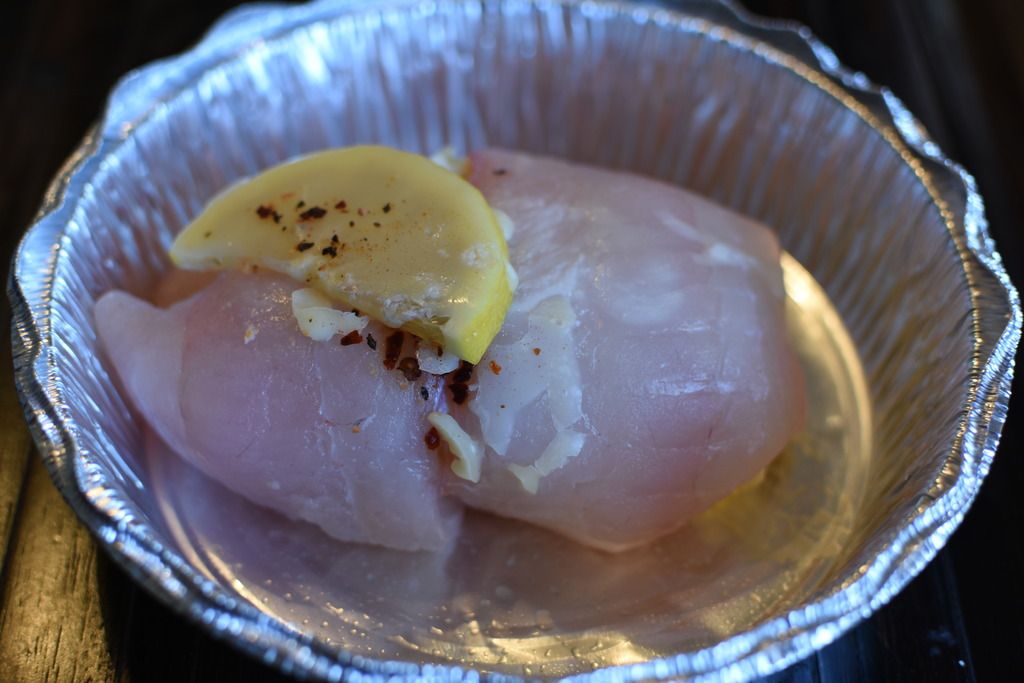 Along with the slice of lemon on top, there were a few red pepper flakes which gave the fish a kick, but there was no salt, pepper, old bay, fish seasoning, nothing.  By far, this had to be the blandest fish I can ever recall consuming.  Yea, seafood and lemon go together like white on rice, but I'd pick salt over lemon any day of the week.
As previously noted, the flounder was stuffed with crab.  There were real lumps of crab meat, which I appreciated.  No back fin, or filler, just uncensored lump crab.  Now this, I liked.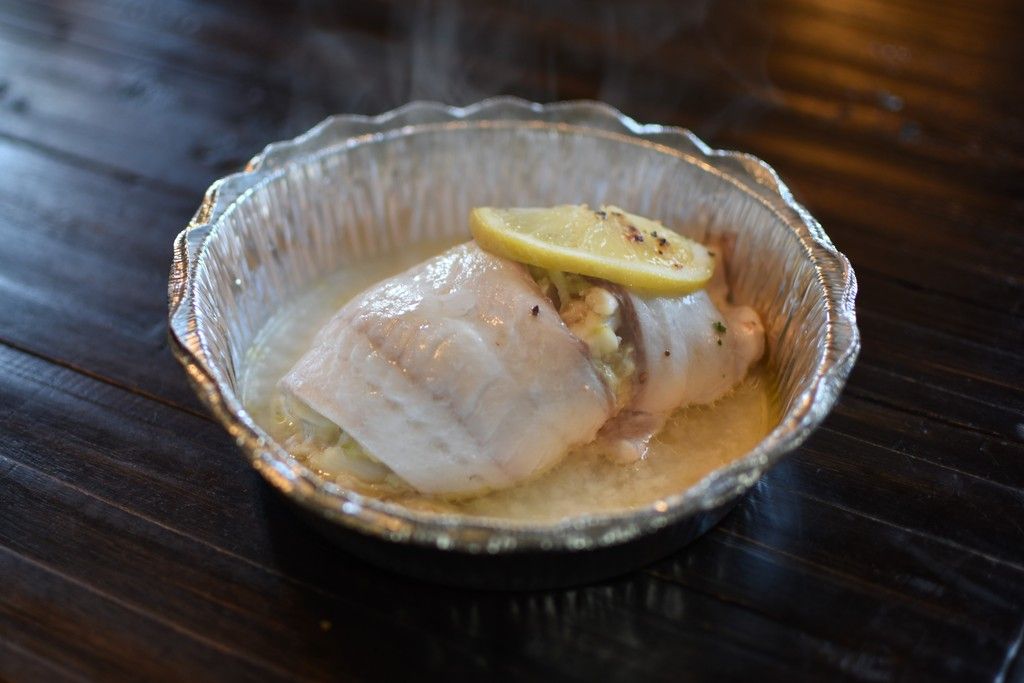 Now, the moment of truth, the main reason I ventured to Bobby Chez in the first place–the crab cake.  For starters, I thought the presentation was very cool.  The cakes weren't that big, but weren't tiny either.  I plowed my fork into the top of the cake, through to the bottom, placed it in my mouth and chewed slowly.  It was okay.  Nothing spectacular, or even anything I would crown as famous, but it was…okay.  It did lack seasoning, which I wasn't surprised about.
One thing I was displeased with, was the coagulated gravy like mixture lying in between the shell and the meat.  I believed it to be some of the ingredients used to bind the meat together.  It tasted like cold cream of mushroom soup and I was so confused why it was apart of the mixture at all.  When I was done the crab cake, there was a puddle of this mysterious gelatinous "stuff" laying in the shell.  Turned my stomach a bit.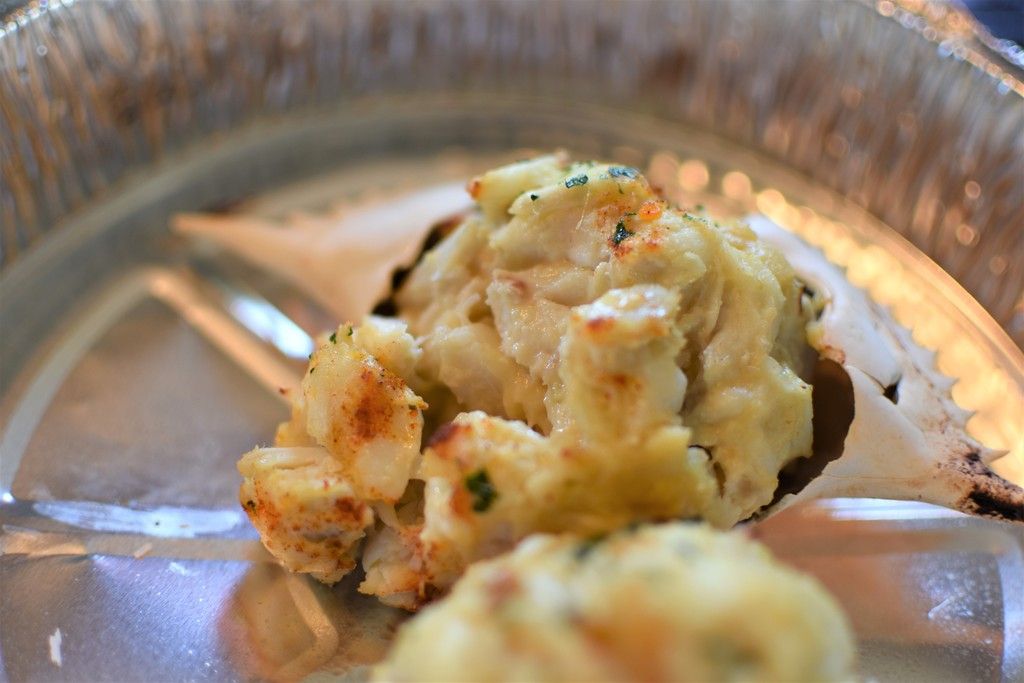 Overall, Bobby Chez, in my opinion, was just short of "okay." The sides were great but the main courses were uninspiring.  Not sure if I would give it another try.  I'd rather just take the two hour drive to Baltimore for some legit crab cakes.