Let's cut to the chase. I'm never not in the mood for Indian food.  I've tried almost every place in South Jersey, besides IndeBlue, which I've heard so much about.
I went on a Wednesday afternoon and got a killer lunch special, one appetizer and one entree for only $15.  In addition to that, I ordered a mango lassi ($4), whole wheat roti ($3), and a chocolate pot die creme ($8).  This was supposed to be a light lunch.  Quickly, it turned into a feast.
My server Brandon was extremely attentive and knowledgeable.  He was the inspiration behind ordering the crispy cauliflower.  Frankly, he told me which appetizer was best, and I had zero objections. "The crispy cauliflower and the spinach chaat are our popular appetizers.  The cauliflower is probably my favorite. That and the shrimp tacos," he said.  I know which appetizer I'll be ordering next time *insert wink emoji.*
Before the app came out, I ordered a mango lassi, in which I finished it before my appetizer even came out.  I couldn't resist its creamy tanginess and fresh brightness.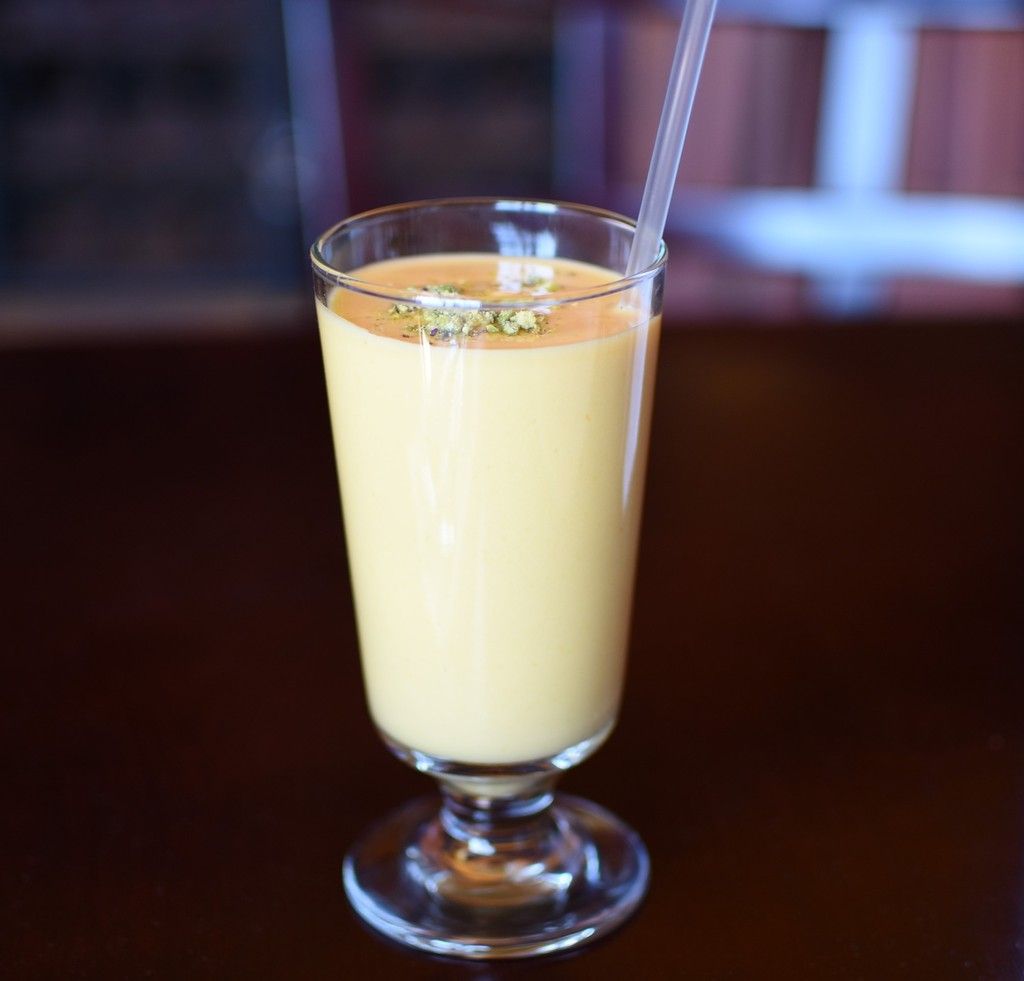 The cauliflower smelled divine and was a great indication of what I'd soon consume.  The battered veggies had a crispy thin coating that didn't overtake the cauliflower at all.  The cauliflower pieces still had a firmness and crunch.  The best part of the plate was the wonderful tomato based sauce.  It was made with red onion, chili, ginger and red peppers so it also packed a great punch.

I thought I was certain of my entree, until Brandon, with all his witty wonderfulness came and schooled me on what I should get. "The chicken makhani or the chicken masala are the most popular [entrees].  The masala has onions in it, plus it's a little sweeter. The makhani has cream and fenugreek," he said while using hand gestures to bring his vision to life.  After a moment of deep consideration, I went with the makhani with whole grain basmati rice, and an order of roti.

I would easily say that the makhani, also known as butter chicken, was the best I've tried.  The sauce was thick and creamy and I just couldn't get enough of those fresh tomatoes.  This is the kind of sauce that's made from scratch with nothing but fresh ingredients, no fillers.  The honey within it gave it sweetness and a wonderful body.  The boneless free range chicken was juicy and tender.  I would go back for this every.single.day.
It was dessert time and I had to decide between chocolate pot de crème (chocolate custard), the banana nirvana (fried banana balls with caramel ice cream), apple jalebi (apple fritter with cinnamon ice cream) and anjeer kulfi (candied walnuts).  All great options, but anyone who knows me knows chocolate is life. Pot de crème it was!
The beautiful deep colored custard was thick and airy, very much like a mousse.  The fudgy flavor nearly knocked my socks off with its richness.  The fresh whipped cream on top gave even more sweetness, but lightly cut through the richness of the chocolate.  The toasted coconut shreds on top were nice for some added texture.

IndeBlue delivered authenticity and phenomenally executed cuisine.  From start to finish, I was impressed with the freshness and flavor of every item.
Every Indian food lover needs to get there…FAST.